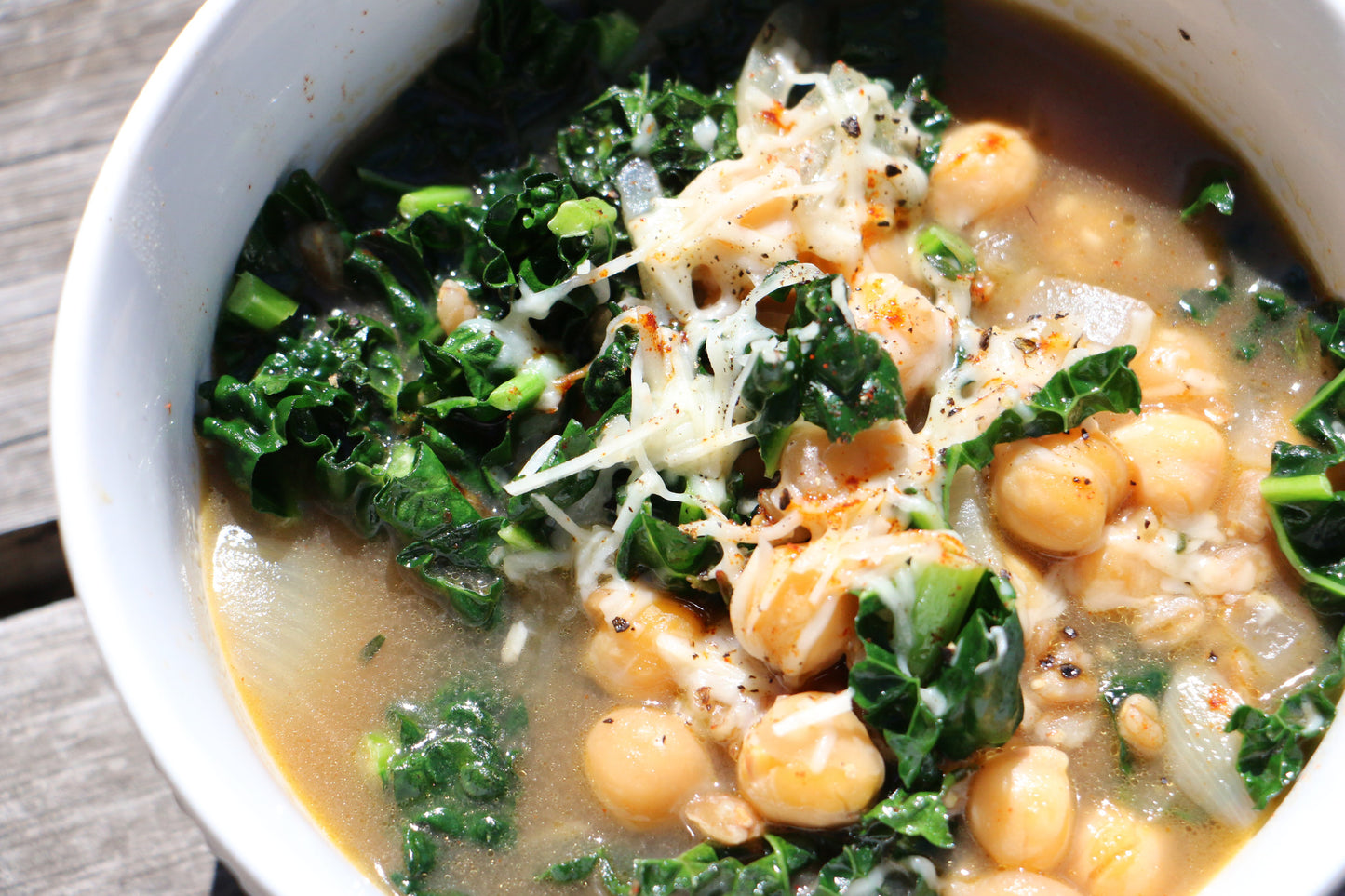 Trying to eat less meat but find it hard to be full and satisfied? Fret not, we've got you covered! This Kale and Chickpea stew will leave you full and happy; it's quick and easy to make, not to mention affordable AND super nutritious! 
What you'll need...
2 TBLS Extra Virgin Olive Oil
1/2 Diced Large White Onion
3 Minced Garlic Cloves
16 oz of Organic Garbanzo Beans (keep that liquid!)
1 Cup Cooked Farro (Optional)
4 thinly sliced leaves of Dino Kale
4 cups of Mushroom Broth
2 TSP dried minced Thyme
1 TSP Spanish Smoked Paprika (the secret ingredient, don't tell....)
1/2 Tsp S & P (or to taste)
a few pinches of Fresh Parmesan (Optional)
A little tip- Does farro contain gluten? The short answer: yes. The long answer: Farro is considered an ancient grain (it matters), it's super nutritious and has a very low glycemic index. It gives the dish a hearty texture and nutty flavor but can easily be left out to accommodate a strict gluten free diet. So, depending on your needs get stewin'! 
What to do...
1. Wash and drain ORGANIC FARRO, place in a pot with 1 to 3 ratio WATER or VEGGIE BROTH*. Bring to a boil, lower heat to a simmer and cover. Cook for 15 minutes as you prep and cook the rest of the stew. (Strain remaining liquid if there is any) 
2. Gather and prep ingredients.
3. In a 3 quart soup pot over medium heat, add OLIVE OIL and ONIONS and GARLIC,  heat until shimmering (about 2 minutes).
4. Add THYME and let simmer until fragrant (about 1 minute).
5. Stir in CHICKPEAS (with liquid), MUSHROOM BROTH, SMOKED PAPRIKA, SALT, and PEPPER; increase heat to high until a gentle boil is reached (3-5 min); reduce heat, cover, and simmer (5 min).
6. Add KALE and drained FARRO, simmer for a few minutes until kale wilts. 
7. Serve warm and top with a few pinches of PARMESAN. Or hold the parmesan and make it vegan! 
 Viola!